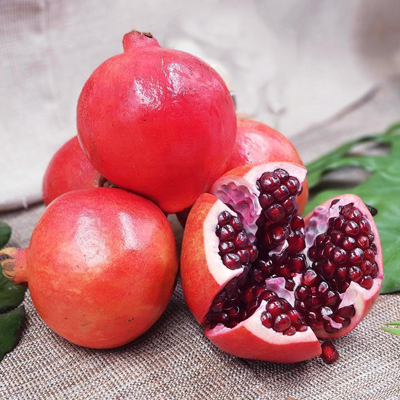 Indian pomegranates
Indian pomegranates are widely recognised for their unique taste, deep red colour, and high nutritional value. Round in shape, Indian pomegranates have a thick, leathery covering that protects the juicy arils inside from the elements. The arils are packed with sweet and tangy juice, providing a refreshing burst of flavour in every bite. We take great satisfaction in providing consumers around the world with the best Indian pomegranates available. To guarantee that they get to you fresh and delicious, our pomegranates are carefully chosen and packed. You can rely on us to deliver the flavour of the greatest pomegranates from India to your door.
Standard Packaging Information
1 box = 9/10 pcs
Net Weight : 2.00 KG
Gross Weight : 2.6 KG
1 X 40 ft Refregrated Container Capacity : 8160 Boxes
Indian Pomegranates Speciality
They are known for their deep red color and plump, juicy arils.
They are grown in a tropical climate, resulting in a longer growing season and a higher yield.
They are packed with care to ensure freshness and quality during transportation and export.
They are a popular export item from India and are in high demand in international markets.
According to recent statistics, the top importers of Indian pomegranates are the United Arab Emirates, Bangladesh, the United Kingdom, Saudi Arabia, and Nepal.